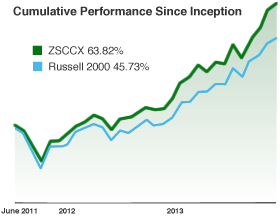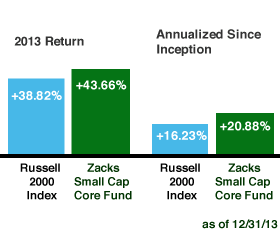 Performance data shown represents past performance and is no guarantee of future results. Investment return and principal value fluctuate so your shares, when sold, may be worth more or less than the original cost; current performance may be lower or higher than quoted. Investors may obtain performance information current to the most recent month-end by calling 1-888-453-4003.
Gross expense ratio: 29.04%. Net Expense Ratio: 1.39%. The performance returns reflect a fee waiver in effect and without the fee waiver, returns would have been reduced. Shares redeemed within 30 days of purchase may be subject to a 2.00% redemption fee. Please see the Fund's prospectus for more information. The Fund was incepted on June 30, 2011. The recent growth in the small-cap market has helped to produce short-term returns that are not typical and may not continue in the future. Because of ongoing market volatility, fund performance may be subject to substantial short-term changes. The Fund's investment adviser has contractually agreed to waive a portion of its management fee and to absorb operating expenses to the extent necessary to limit the Fund's expense ratio (excluding certain taxes and expenses) to 1.39%. This agreement remains in effect until 3/31/2016. The adviser may recover from the Fund fees and expenses waived or reimbursed during the prior three years if the Fund's expense ratio, including the recovered expenses, falls below the expense limit.
Download a Fact Sheet
Overview
This fund offers the high-growth potential of small-cap investing with a significant enhancement: The timeliness of the proven Zacks Rank performance model as applied by two of its most accomplished experts.
Ben and Mitch Zacks personally manage the portfolio. Since inception in June, 2011, they have drawn upon independent Zacks research to significantly outperform the Russell 2000 index.
The Fund's primary investment objective is capital appreciation. The Fund's Strategy attempts to generate excess returns over the market by implementing a quantitative investment process to select small-cap stocks with strong potential for capital appreciation.
Six Step Selection Process
Ben and Mitch use a unique methodology to pursue market-beating gains at controlled risk:
Start with the right universe by filtering down to 3,000 quality small-cap companies.
Drill deeper through the unbiased Zacks Rank performance model that has proven itself for more than 25 years.
Screen out stocks that are attracting too much short interest from big institutional investors.
Use a unique Tactical Optimizer to keep risk characteristics in line with the Russell 2000.
Run a final qualitative "Health Check" on the best quantitatively selected stocks.
Maintain vigilance to sell positions that are no longer appropriate for the Fund.
Zacks Family Management
Ben Zacks
Portfolio Manager
Mitch Zacks
Portfolio Manager
Ben was one of the founders of Zacks Investment Research and established Zacks Investment Management to apply the organization's models to the portfolios of individual investors. Mitch is our primary expert on quantitative investing and is a noted columnist and author on investment strategies. Ben holds a B.A. in Economics from Boston University, and Mitch has a B.A. in Economics from Yale University and an M.B.A. in Analytic Finance from the University of Chicago.
To Invest in the Fund
The Zacks Small-Cap Core Mutual Fund (ZSCCX) is available to you through most brokerage firms including Charles Schwab, Fidelity, E*TRADE, Scottrade, and TD Ameritrade to name a few.
Want more details?
If you want to dig deeper on this fund, click here to learn more.