| | |
| --- | --- |
| | |
| | Kevin Matras |


You must think there's a catch.

Who wouldn't want today's stock recommendations from strategies that average gains of up to +67.4% per year? Yet, when I offered those picks to you for free, you didn't take them.

So let me assure you here and now. This "Free Download" is really free. Clicking it won't commit you to do a thing or spend a cent!

Today, You Can See Our
Top Stocks for Free

Fellow Investor,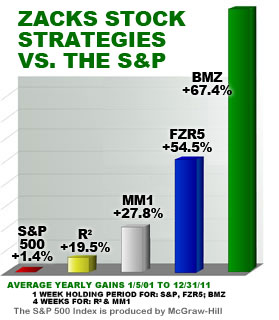 Since 2001, the S&P 500 has struggled through two recessions to eke out a tiny average yearly gain of only +1.4% per year.

Meanwhile, Zacks' top stock-picking strategies have averaged gains of up to +67.4% per year.
Right now, I'm inviting you to see their latest buy signals. For example, you'll get the latest stocks from:
Big Money Zacks. Average gain
+67.4% per year.

Filtered Zacks Rank5. Average gain
+54.5% per year.

Momentum Method1. Average gain
+27.8% per year.

R² Growth. Average gain +19.5% per year.

Plus many more
Why am I giving away these recommendations? I just feel it's the best way to promote our Zacks Research Wizard stock selection program.


Right now, in fact, you get three important advantages for free:
The latest stocks from our best strategies.

A special report, Top 5 Valuation Secrets, to help you quickly pick your own winning stocks.

The Research Wizard to try out for 2 weeks with no cost or obligation.
Download These Advantages Now >>

The Research Wizard is a snap to use. Select from proven, profitable strategies that come loaded with the program. Or . . . enter your own favorite stock-picking criteria and narrow down over 8,800 stocks to a handful of the best ones. It just takes seconds.

Then, quickly backtest your new strategy to see how it would have performed in the past during markets like this one. (See what worked and what didn't BEFORE you invest.)

So please be my guest. Download the latest picks from our top strategies. And find your own winners, too. No obligation. It's all 100% free.


"This is like a license to print money." - Bill C., Carson City, NV

"With the Wizard no benchmark stands a chance. If too many people discover it and start to use it, I'll lose a very valuable competitive edge." - Maurizio P., Lugano,Switzerland

"Fantastic product, please make sure it doesn't get too popular. -) - Marco G., Addison, TX

Don't miss your chance to use this powerful investing advantage for 2 weeks FREE >>
Individual results may vary. To learn more about our performance, go to http://www.zacks.com/performance.

Zacks.com provides investment resources and informs you of these resources, which you may choose to use in making your own investment decisions. Zacks is providing information on this resource to you subject to the Zacks "Terms and Conditions of Service" disclaimer. http://www.zacks.com/disclaimer