Dear Zacks Member,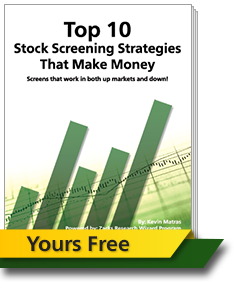 I checked, double-checked, and checked again. From 2000 through 2015, while the S&P 500 averaged +3.8% per year, one of our stock picking strategies actually skyrocketed at the rate of +64.0% per year.
That is not a cumulative +64.0%. It is the average gain per year.
We call this strategy "Small-Cap Growth" and it finds companies that are in the lucrative early part of their growth cycles. Typically, it zeroes in on only 4 exceptional tickers at a time, so you won't have to comb through a long stock list to make your buy decisions.
This super stock screen has been loaded into a new Special Report, Zacks' Top 10 Stock Screening Strategies that Make Money, and today you are invited to see what makes it tick . . . for free.
Plus, the report brings you 9 other all-time-best strategies. And as shown in the chart below, they have been almost as spectacular . . .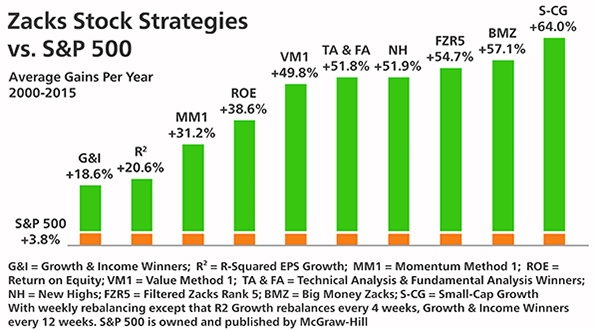 How have they performed lately?
Overall, their performance continues to rocket past the market. During the first half of 2016, while the S&P 500 gained +4.1%, these 10 strategies averaged +27%.
Some have really been on fire. For example:
Value Method 1 is up +62.1%
Technical Analysis & Fundamental Analysis Winners is up +31.0%
New Highs is up +56.4%
I strongly encourage you to see their formulas and their latest stocks today.
Click here to download without cost or obligation to buy anything now or ever.
Right now, in fact, you get three important advantages for free:
Today's free stock lists

from these strategies

The formulas

they use so you can find winners anytime

An even easier way

to uncover those potent stocks. You can try our Research Wizard stock selection program for 2 weeks

absolutely

free

. Starting today, you can access our best proven winners (or modify our strategies or create your own) in mere seconds at the touch of a button.
Go ahead. Download Zacks' Top 10 Strategies report, view the stocks and find your own winners, too. No obligation. It's all 100% free.
Sincerely,


Kevin Matras
V.P., Zacks Investment Research