"This is like a license
to print money."
Fellow Investor,
I'm about to share something with you that a small circle of individual investors would just as soon keep to themselves. They think of it as their private competitive edge.
From Switzerland to Cincinnati, these few have managed to stay far ahead of Wall Street, trade after trade, year after year. They beat the market with stock-picking strategies that produce average yearly gains of 20.6%, +31.1%, +54.7%, and +57.6%.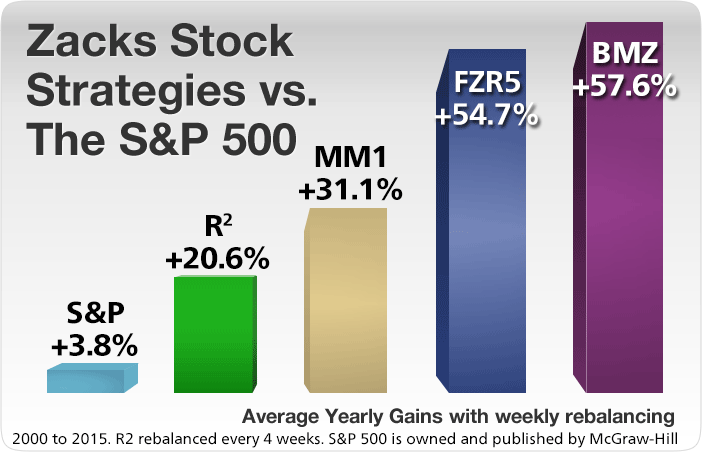 Do you wonder how often your broker or mutual fund manager outpaces the S&P 500? My guess is that it's rarely or never.
But those few private investors do it right. These people beat the market routinely and substantially. And they don't have to tether themselves to a stock ticker. Nor do they become highly caffeinated day traders. They only take a few minutes once a week (or even once a month) to review their portfolios and make buy/ hold/ sell decisions.
Their secret? They use Zacks Research Wizard stock-picking software to screen 8,200 stocks down to a handful of gems. Then they make their moves.
These investors get their stock picks by jumping on market-beating strategies that are built into the Research Wizard. Or by tweaking the strategies to generate new lists of powerful stocks.
It's almost uncanny . . .
Bill C. from Carson City, NV tells us "This is like a license to print money."

Ed M. from Cincinnati, OH is "wildly happy with the Research Wizard."

Maurizio P. from Lugano, Switzerland enthuses that "with the Wizard no benchmark stands a chance." His only concern is "if too many people discover the Wizard and start to use it, I'll lose a very valuable competitive edge."

Marco G. from Addison, TX concurs: "Fantastic product, please make sure it doesn't get too popular. -)"
With due respect to Maurizio and Marco, I'm offering you a special chance to share their windfall. This is your chance to use the Research Wizard and actually see the individual picks free.
We'll give you the secrets, the strategies,
the stocks - all FREE.
My name is Kevin Matras, and I've personally developed many of the Zacks Rank-based stock-picking strategies that are loaded onto the Research Wizard. Today, I'm inviting you to use this ultimate investment tool and connect to Zacks' constantly updating database.
Then you'll find exactly what you need to know: What and when to buy. What and when to sell.
Cull 8,200 stocks down to a handful of precious,
powerful picks.
Research Wizard strategies draw from more than 650 criteria to screen down the universe of stocks. In other words, you won't have to sift through thousands of stocks. Each Research Wizard strategy blasts away the coal and presents you with a small pouch full of diamonds.
Think of it. Even if you considered only Zacks #1 picks, there would still be 220 stocks to choose among. However, with the Research Wizard, you'll be able to focus on up-to-the-minute lists of only a few great stocks, the best of the best. Just point and click. You're in control.
Why not find out how a strategy performs
BEFORE you invest in its picks?
Now I'm going to let you in on a key secret behind the market-beating success of our pre-loaded strategies: They're "backtested" to see how they would have performed during different market conditions.


The Pure Magic of
Research Wizard

PICK one of our proven winning strategies.

PERUSE a small list of choice stocks about to "pop."

PRESTO! Make money.
You can do this, too, when you evaluate each strategy. With the Research Wizard, simply click a button and see results as far as six years back. In seconds.
At a glance, you'll spot the answers to such questions as:
How did the strategy perform in bear, bull, flat, and volatile markets?

How smooth was the ride? Did the stocks go zig-zag or did they gain consistently?

How did its returns compare to the S&P 500 benchmark? Or the Dow Jones? Or the Nasdaq?

What was the strategy's win percentage during different holding periods?

Which stocks does it recommend today?
In my experience, if you're not backtesting, you're just guessing. That's why I hope you'll consider this invitation with special urgency.
Download now and use the Research Wizard to pick strong stocks right away. It doesn't cost a cent to take a test ride and see for yourself.

What's more, during this special promotion, I'll make things even easier. You'll also get a Special Report that reveals exactly which strategies lead to stocks that perform the best. It's called Zacks Top 10 Screening Strategies That Make Money, and it's yours absolutely free.
Now you can discover Zacks' most powerful strategies. And have the means to create your own winning approaches starting today.
It doesn't "print money," but this amazing stock-picking machine does the next best thing. Since 2000,its blockbuster strategies have achieved compounded returns of up to +57.6%. (Compare that to the S&P 500's gain of +3.8%.) Now is your golden chance to beat the S&P 500 in today's extremely volatile market – and during all other market conditions.
I hope you'll take advantage of my invitation: Use the Research Wizard free. Get its top 10 strategies free. See today's most powerful stock picks free.
Please click here to download now.
Sincerely,
Kevin Matras
V.P., Zacks Investment Research

P.S. This promotional free offer may be withdrawn at any time. Please don't hesitate to take full and immediate advantage of it . . .